// Priory Knight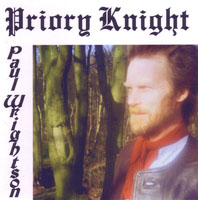 This text will be replaced by the flash music player.
'Priory Knight' was composed and recorded to coincide with Paul's performance at Birkenhead's 12th Century Priory, hence the play-on-words of the title. The concert was part of the Wirral International Guitar Festival in 1996.
'Priory Knight' the title track tells the story of Edward I or 'Edward Longshanks' visiting the Priory en-route to Scotland.
'It's Always Been the Same', in 'Troubadour Style' takes inspiration from the code of Knightly Chivalry and Courtly Love. In essence a love story but with a reprimand to the human folly of war, be it in the Crusades or now.
'Jack the Cat', named after a real Jack who lives with friends and is indeed a fine, black 'witchy' cat and also a certain old puss who is buried under a large, inscribed stone under a particular tree, the whereabouts of which Paul is keeping secret.
'Scriptorium Shadows', dark and haunting in mood, is based on the myth in Birkenhead, that the monks of St James's Priory buried gold beneath the vaults during the dissolution of monasteries in the 1530's.
The protagonist of this story-song, for that is what many of Paul's songs are, is a well travelled monk who might come back from the Holy Land to claim the loot, and get the girl!.
The album includes several substantial self-penned Lute-style pieces. Paul's training in Classical guitar, Vihuela (guitar with lute tuning) music, and Lute repertoire comes to prominence here in pieces that reflect early music themes.