// Teaching
Paul is currently available for private guitar tuition in Ludlow. All styles are taught, and students can be entered for ABRSM exams. For enquiries, please call 07729059847, or email: paul.wrightson@gmail.com.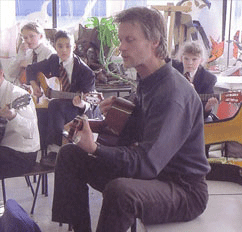 Paul has been teaching guitar for nearly 35 years since learning to play at 13. Paul studied music at both the Liverpool Matthay School of Music and the Sandown College of Performing arts achieving both graduate and post graduate music and teaching qualifications. He has taught in both schools and colleges. He has also maintained a healthy private clientele and occasionally runs rock workshops, covering electric, acoustic and bass guitars, how to run a band and song writing.
Paul began teaching in 1973 when he could see that any longevity in the music business would require working in a number of different musical areas such as performing, song writing and teaching. He gave guitar lessons to pay for theory tuition that he received from an old big-band clarinetist. His American uncle, Keith, also a music teacher with American airforce schools, and a composer, encouraged Paul's music reading efforts which were played through the medium of classical guitar (there were no rock schools in Merseyside then).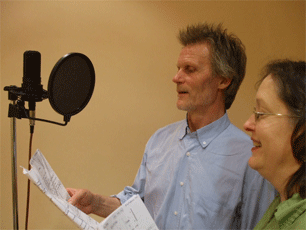 Paul also worked on jazz guitar with its advanced chord-work and soloing. His uncle showed him some country picking on his Martin OM acoustic guitar he'd brought with him from South Dakota.
Paul auditioned at the Matthay school of music on Smithdown road by Penny Lane in Liverpool. Many rock musicians went there as music professions required more formal qualifications. "We might have missed army conscription" says Paul, "but many musicians of that era served their time in craft apprenticeships while performing at night and weekends. I'd done four years as an engineering fitter inspector before I ever got to music school. I'd already been on the road playing the pub-rock circuit for seven years"
Paul teaching a group at the Assembly Rooms in Ludlow