// Horses, Fire and Steam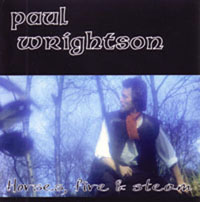 This text will be replaced by the flash music player.
'Horses, Fire and Steam' tells of progress and the move from rural to city life, the ensuing industrialisation, culminating in 'Blood and Iron' a track about the Great War.
The Roaring 20's is often portrayed, all be it, for the minority, as a care free, 'live for today' society. Nothing suggests this with more atmosphere than a Ukulele Banjo, for which Paul had to compose the piece 'Turned out Nice Again' after learning to play the instrument (His Dads!)
'Hats Off To Old Stanley' is a tribute to all the people he knew who had weathered the storm of World War II. Their care-worn faces from his childhood remembered with their voice, and wry humour.
Even in the war the 'Yanks' had more material wealth than we did. 'Over sexed, over-paid and over-here' as the saying was, and this is repeated in 'Ration Book Blues'.
However, jealousy gives way to silent respect for the fly-boys who never made it back in 'Flying Fortress Sunset'.
The last four tracks are really an over view of the 60's, 70's 80's and 90's in chronological order. 'Cloud Cuckoo Land', 'Party Time', 'Mersey Hornpipe' and 'The Jests on You'.
"From the Industrial revolution, encapsulated in the title track, through the first and second World Wars, and right up to the date with the Canary Wharf 'fat Cats', his coverage is pretty comprehensive. His link tracks (or preambles) are in the best traditions of 'broadside'balladeers, his guitar accompaniments are impeccable and his vocal commitment at times compelling" - Folk North West 1998